Concrete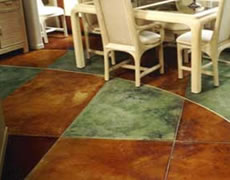 More and more business owners, commercial property managers, and even homeowners are discovering the cost effective and attractive qualities of polished concrete. Since most modern structures are built on a concrete slab, the stage is already set for a durable, abrasive-resistant, and potentially stunning final surface, without the need for extensive installation costs and additional materials.
Certified Stone Professionals is one of the leading providers of concrete polishing and other concrete services in Western New York. Our experienced technicians will prepare your existing concrete surface with diamond-encrusted pads and a chemical densifier, and then stain, polish and finish according to your specifications.
The Benefits of Polished Concrete Flooring
Polished concrete is incredibly low maintenance and durable, resisting damage better than most other surfaces. Polished concrete reduces dust mite and allergen problems, and does not support mold growth. Evidence suggests highly reflective polished concrete reduces lighting needs and enhances natural lighting. Its relatively high coefficient of friction also gives it a degree of slip resistance. A concrete floor that has been hardened and polished will have an extremely long life expectancy compared to other flooring.
Exposing the Aggregate
The top layers of your concrete slab can be ground down to expose the aggregate materials, then polished for a look which can mimic terrazzo at a fraction of the cost.
Staining & Sealing Concrete
There are a variety of stains and dyes that can be applied, re-applied or incorporated into concrete surfaces to enhance or restore the appearance or your flooring. Color is achieved by using dry shakes or color hardeners, powder or liquid releases, integral colors or acid stains. All these products may be combined to create even more intricate designs. Top it off with polishing and the results can be both durable and strikingly beautiful, and a wide range of looks can be achieved. An impregnating sealer will help protect your concrete and inhibit staining.
High Performance Coatings
We apply a variety of high performance, EPA compliant, low VOC coatings, from water-based to inorganic siloxane that won't trap dirt or turn yellow. This service is especially important for commercial and industrial concrete floors that are subject to high traffic and use or exposed to chemicals. With our coating services, your concrete can not only look better and last longer, but become easier to maintain — which means you'll save time and money.
Concrete Stain Removal
Certified Stone Professionals can remove concrete stains, as well as discolorations. Whether you are seeking guidance on how to do this yourself or want us to treat your concrete, the original finish of your concrete can be restored.
Patching & Repair
Has your concrete surface developed pits, holes, cracks or sunken areas? The experts at Certified Stone Professionals can level and repair your concrete surface, filling pits and holes, patching cracks, and returning it to like new condition.
Decorative Concrete
There are nearly endless possibilities to achieve the look you want for both new construction and renovation projects with decorative concrete.
What You Should Know…
At Certified Stone Professionals, we can instruct you on the proper day-to-day care of your floors, countertops, and other surfaces. We also provide a regularly scheduled maintenance program, upon request.
For a FREE estimate on professional concrete repair, grinding, polishing, cleaning, sealing, and other restoration services throughout Western New York, including Rochester and Buffalo, contact us online or call (716) 759-4200 today.