Terrazzo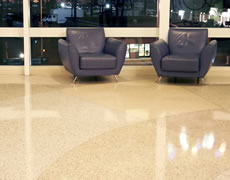 Terrazzo is a unique surface, primarily found as flooring, that traditionally contains marble chips of different sizes and colors held together with a cement base or, in newer applications, with a resin or epoxy base. Aggregates other than marble may also be used. It is often the practice to wax terrazzo to achieve shine, but waxes yellow and collect dirt over time and therefore must be repeatedly stripped and reapplied. This process to be not only time-consuming and costly, but also unnecessary. With our professional terrazzo services, we can give your terrazzo floors a natural polish that eliminates the need for continuous stripping and waxing. If your circumstances require it, such as a hospital or high traffic environment, we offer solutions that include increasing slip resistance, and providing anti-microbial properties to minimize the risk of spreading secondary infection.
Honing & Polishing
Using the same process used to restore marble and other natural stone, terrazzo can be polished to achieve both glossy and matte finishes without the need for coatings. This same process masterfully restores scratched and worn terrazzo to like-new (or better) condition, as well.
Sealing
It is important to note that sealing is not the same as coating or waxing and is an important, but simple measure that can be taken to help prevent staining once the terrazzo has been restored and thoroughly cleaned. Properly sealed terrazzo will inhibit staining agents from being able to penetrate into the surface.
Crack & Chip Repair
Like any other surface that sees traffic and use, terrazzo can become chipped and cracked. Our technicians are able to seamlessly repair this type of damage and restore your terrazzo to its original gorgeous and durable state.
High Performance Coatings
In some situations, coating terrazzo may be preferable to polishing. We offer high performance, EPA compliant, low VOC coatings, that won't trap dirt or turn yellow. Our coating system increases slip resistance and has antimicrobial properties to reduce the risk of secondary infection, so it's great for hospitals, nursing homes, schools, gyms and more. With this coating, your tile can not only look better and last longer, but become easier to maintain — which means you'll save time and money in maintenance costs.
What You Should Know…
At Certified Stone Professionals, we can instruct you on the proper day-to-day care of your floors, countertops, and other surfaces. We offer a free, downloadable Care Guide and can recommend Care Products to help you keep your home or business looking great. We also provide a regularly scheduled maintenance program, upon request.
See dramatic images and read the compelling story behind one of our terrazzo jobs here.
What is Terrazo Restoration?
Watch this video to see how we restore Terrazo.
For a FREE estimate on professional terrazzo honing, polishing, cleaning, sealing, and other restoration services throughout Western New York, including Rochester and Buffalo, contact us online or call (716) 759-4200 today.