Tile & Grout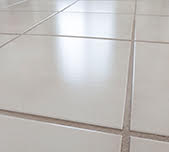 Tile cleaning is tough work. Grout cleaning is even harder, especially, if you're using a toothbrush and elbow grease, but a quick phone call or email to schedule tile and grout deep cleaning services with Certified Stone Professionals can change all that. We service tile and grout floors, shower walls, tub surrounds, hot tub surrounds, pool decks, table tops, and more in both residential and commercial properties throughout Western New York.
Grout Sealing
After your tile and grout is deep cleaned and sanitized, take advantage of our grout sealing services. We use the highest quality grout sealer available for the best protection. Grout sealer is absorbed into the porous surface, filling in the tiny holes where contaminants collect. It leaves your floor with a clean and fresh look that is much easier to maintain, because regular cleaning is more productive.
Grout Color Sealing
Grout color sealing lasts for years and delivers solutions for your grout. If your grout has permanent stains or discolorations, grout color sealing may be the solution you are looking for. With our grout color sealing services, we can match your existing color, or we can change the color of your grout to any color you want and give your floors a completely different look. Plus, color sealing actually prevents staining, a very common grout problem. With constant-acting mildewcides and fungicides, your grout stays cleaner and healthier than unsealed or even clear sealed grout.
As Western New York's only Aqua Mix and Color Clad authorized contractor, we are trained to properly prepare and apply the grout colorant.  Our system correctly prepares your grout to accept the colorant and properly bond to avoid any peeling in the future.  The epoxy based colorant seals your grout lines to ensure long lasting protection against stains, mold and mildew.  The results are consistently colored grout lines that are epoxy tough and elegantly beautiful.
High Performance Coatings
We offer high performance, EPA compliant, low VOC coatings, that won't trap dirt or turn yellow. Our coating system increases slip resistance and has antimicrobial properties to reduce the risk of secondary infection, so it's great for hospitals, nursing homes, schools, gyms and more. With this coating, your tile can not only look better and last longer, but become easier to maintain — which means you'll save time and money in maintenance costs.
What You Should Know…
At Certified Stone Professionals, we can instruct you on the proper day-to-day care of your floors, countertops, and other surfaces. We offer a free, downloadable Care Guide and can recommend Care Products to help you keep your home or business looking great. We also provide a regularly scheduled maintenance program, upon request.
For a FREE estimate on professional tile and grout deep cleaning, sealing, or color sealing services, as well as other repair and restoration services throughout Western New York, including Rochester and Buffalo, contact us online or call (716) 759-4200 today.