STONE TOPS: TO SEAL OR NOT? A Simple How-to Test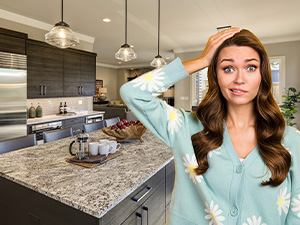 Not all stone countertops need to be sealed but most will benefit from the added protection —"an ounce of prevention," so to speak. Here's an easy test to know if yours needs to be sealed—or re-sealed. It's called the "Water Test," and it is so simple:
Clean the surface of your countertop with a stone-safe cleaner, making sure to remove oils and grease.
Let the surface dry completely.
Pick out a few different areas to test. Preferably, areas that get a lot of use or are prone to spills and stains. These areas will be the most likely to have worn-down protection.
Pour a little bit of water onto your test areas. A few spoonfuls at least.
Let the water dwell for a bit. Give it 4-5 minutes or so.
Wipe away the water. After a couple of seconds, look carefully at the area. If there is no evidence that water had been spilled you're good to go. However, if the water soaked in and left a dark spot (not a stain, as it will eventually dry out) then it's time to reseal.
Tips About Resealing
Even if only one area in the test absorbs the water, we recommend a complete re-seal. It's an all-or-nothing necessity.
Failure to reseal can lead to damage such as permanent or difficult-to-remove stains on your countertops.
Having a pro do the job will ensure the proper type of sealer is used and common sealing problems are avoided.
Re-test every year or so.
Your countertops are not only an investment, they play a significant role in the appearance of your kitchen. The simple act of keeping them properly sealed will go a long way in keeping them looking great for years to come.
---
By Sharon Koehler. This is one of a series of articles written and published on behalf of Surface Care PRO Partners.